Ease of Use -

10/10

Performance -

8/10

Cost -

9/10

Features -

9/10
Summary
Hopsy is a really innovative product for any beer lover. While it may not replace bottles and cans entirely from your lineup, Hopsy has a great line-up of breweries to select from and the tap system is perfect when inviting a few friends over.
Hopsy Coupon
$140 off a new system.
The wonderful and ever tasteful craft beer industry is reaching unprecedented heights as technology opens new and exciting doors of the brewing world. Automated brewing machines, such as Pico Brew, completely automate the brewing process, making homebrewing less intimidating for newcomers. A more recent entrant to this "brewing tech" market is Hopsy, which aims to deliver fresh on-tap beer directly to your home. We got our hands on one of these bad boys to test out.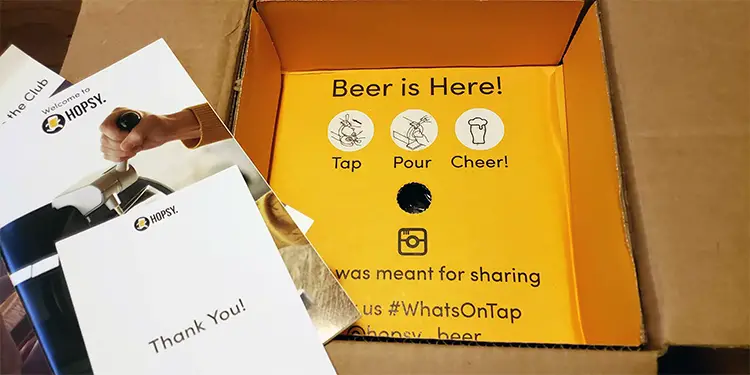 How Hopsy Works
Hopsy is essentially an all-in-one home tap system that eliminates any guesswork. Think of a Keurig-esque design but for straight-from-the-brewery beer. There are two main components of the system:
SUB: This is the draft system. It's a compact appliance that sits on your counter (or anywhere else in your home) and plugs into a standard electrical outlet. The SUB Draft System holds the beer in place, keeps it cold, and of course, has a draft handle to pour.
TORPS: This is the beer. Beer is delivered in 2 liter containers and you have the option of joining the monthly beer club for discounted pricing or purchasing individual beers. The TORPS are placed directly inside of the SUB Draft System and connect to the tap. Before you get worried about these being only 2L – remember that this isn't like a regular tap system. Swapping an empty TORP out for a new one takes seconds.
Breweries
They have some pretty big names in the brewing world as partners as well, including Sierra Nevada, Lagunitas, Ommegang, and Heineken, among many others. Depending on where you live, the availability selection can change. But one of the most beneficial aspects of Hopsy is being able to obtain fresh (and sometimes limited release) beer from breweries you may not have regular access to.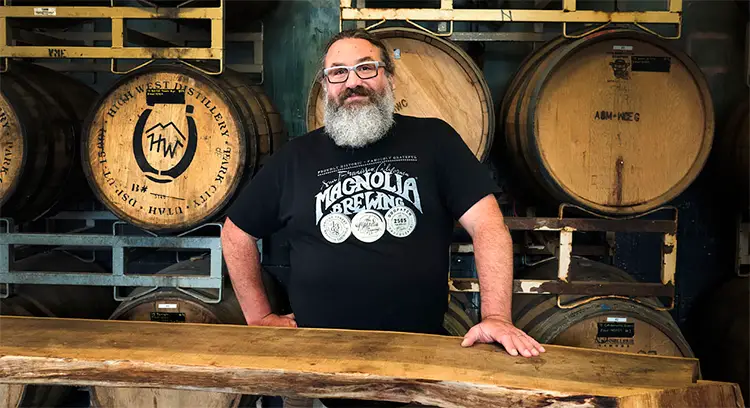 What About the Cost?
This was a bit of a surprise for me, as I thought this system was going to cost a lot. The SUB Draft System typically retails for $179.99, but they often have a $100 discount for new customers (here is a coupon link). As for the beers, they typically run $14.99 for 2 liters with the Club Discount.
Hopsy Review: Taking the SUB for a Test Drive
Setting up the Hopsy system is ridiculously easy. Plug the SUB Draft System in and press the power button. The button will light up red as it begins cooling and will turn green when it's ready to add beer. The manual said it can take up to an hour but it only took about 25 minutes for me.
Once the light turned green, I pulled the cap off of my TORP (Gun Hill IPA for the first test. I also refrigerated the TORP beforehand.) which has a little hose connector sticking out of it. I opened the hatch on the SUB, loaded the TORP (pretty interesting names they picked, huh?), connected the tap lines, and closed the hatch. And now we are ready!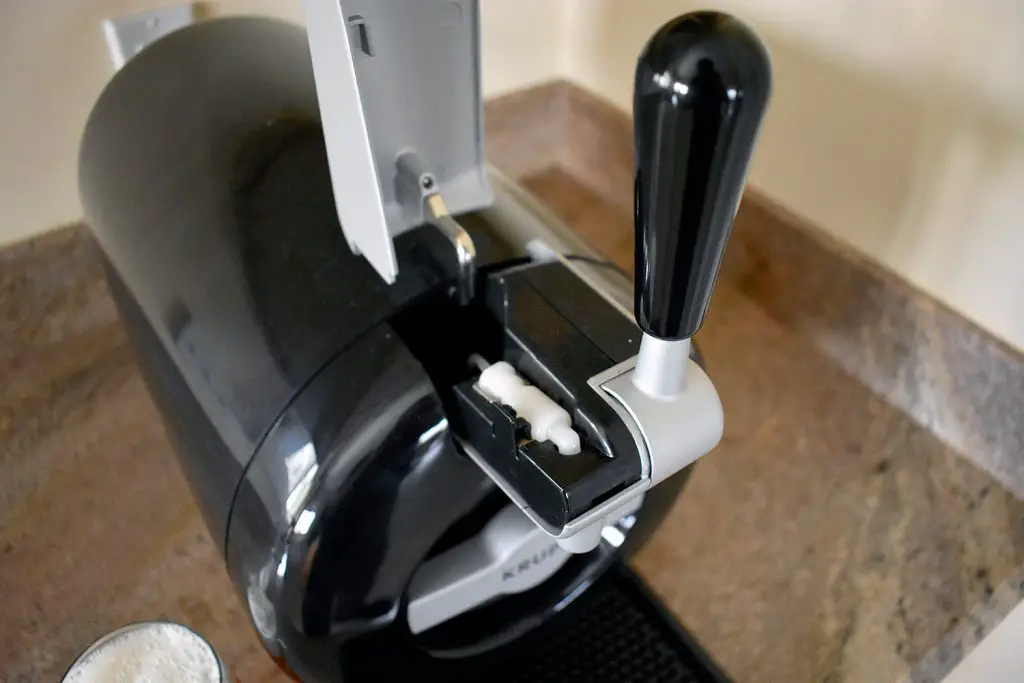 The Pour
Once you begin pulling the tap, you might be caught off-guard by the noise that it makes after 2-3 seconds. This is the pump activating to maintain pressure in the tap – so it's completely normal. I tilted my glass 45 degrees and poured, only to be surprised by the amount of foam (nearly 50%). I figured this was due to the warm tap lines hitting the cold beer, because after the second pour, while still a little more than a typical bottle pour, the foam had decreased quite a lot. However, my second TORP poured flawlessly from the beginning, so I think the first beer I tried was an exception.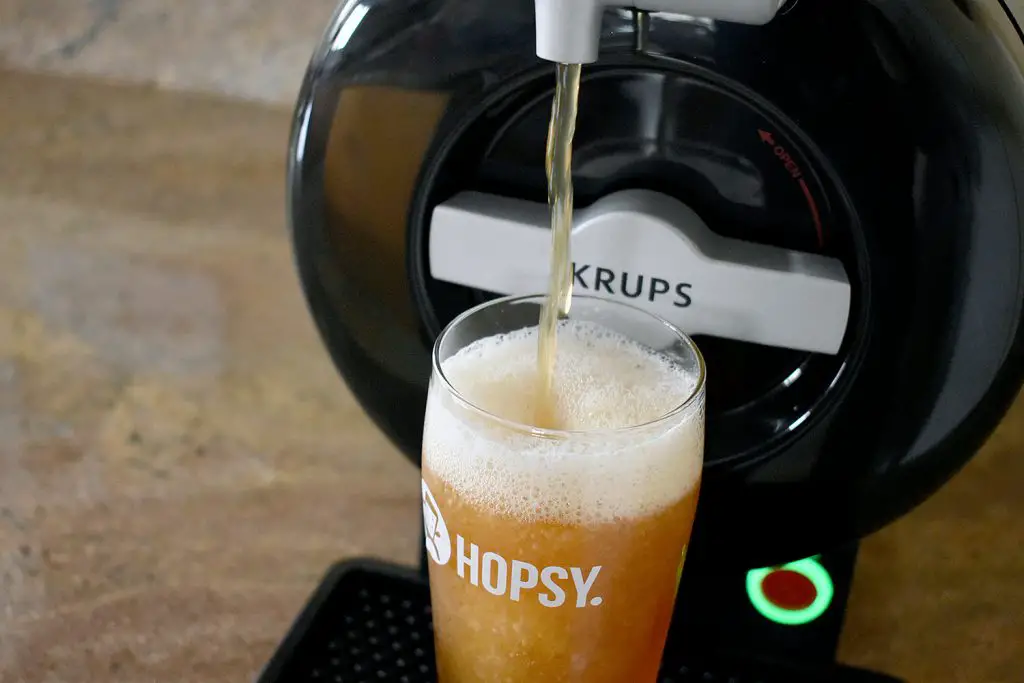 Final Thoughts on Hopsy
Overall I am very pleased with the company and product. It won't fully replace my urge to grab a bottle or can from the fridge after a long day, but it's a really innovative and fun product when you have a couple of friends coming over to watch the game. But what's possibly more important, and a reason why I continue to use Hopsy even when I'm drinking alone (#SadFaceEmoji), is the fact that you can find new limited release beers from breweries I can't seem to find in local stores AND have it delivered to your door. How can you beat that?
Hopsy Coupon
$140 off a new system.