One of the best feelings in the world is having that first glass of the homebrew that you worked so hard on. It is only a matter of time until you begin to wish that you could enjoy a glass of cold beer or cider on a hot summer evening.
A kegerator could hardly be considered a novelty product. These units are one of the most practical and useful pieces of equipment that you can invest in your homebrewing setup.
What is a Kegerator and How Does it Work?
The term 'kegerator' is a clever portmanteau comprising of the words 'keg' and 'refrigerator'. This equipment is essentially a refrigerator for beer kegs.
So a fridge – you could just use a regular kitchen fridge, right?!
Well, not quite. Aside from the problem of where to store your food and groceries and how to fit in the CO2 tank along with the keg, kegerators do more than simply keep your beer cold.
Kegerators have essential components that are specifically suited for preserving, chilling, and dispensing beer which you won't find in a regular refrigerator.
These components include a carbon dioxide cylinder to provide enough pressure in the keg to push out the beer, a regulator to adjust the pressure and carbonation in the beer keg, a coupler (essentially a valve) to tap the beer out of the keg, and finally the faucet where you pour beer into your cup.
The refrigeration factor is the only similarity between a regular fridge and a kegerator.
Types of Kegerators for Homebrewing
There are various types of kegerators available on the market so brewing enthusiasts have plenty of options based on considerations such as space constraints, size of the brewing operation, budget, and one's brewing proficiency among other factors.
The main types of kegerators include:
Mini Kegerators
These kegerators are also known as counter top kegerators and are a great option for saving space or if you are working with a tight budget. These mini kegerators fit on your counter top and pair with 5-liter mini-kegs (or 2-liter if using Hopsy).
Mini kegerators are also very portable and work anywhere you have a power supply including on boats and RVs.
Freestanding Kegerators
Freestanding kegerators are the next step up and the most popular kind on the market. The equipment typically comes with castor wheels so you can move the kegerator poolside, to the garage, or anywhere else you might need a cold beer.
These units are moderately prized and also work for small-sized commercial applications such as catering, restaurants, and outdoor events.
Outdoor Kegerators
It is important to make a distinction between a 'regular' kegerator and a Wet rated model. Wet rated, also called outdoor kegerators, and are specifically designed to withstand outdoor use.
You can easily reduce the life or completely damage a regular freestanding kegerator when using it outside during inclement weather.
Outdoor kegerators are typically made from stainless steel and rust-resistant materials and can withstand rain, ocean spray, snow, and other inclement weather. These units are perfect for patios, pergolas, and other outdoor areas.
Built-in Kegerators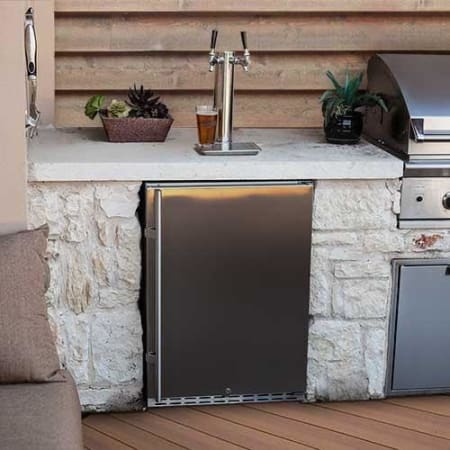 If you are familiar with built-in appliances such as refrigerators and stoves, it is good to know that you can also have a built-in kegerator for your home bar.
Built-in kegerators come in a variety of designs, colors, and sizes so you can always find the perfect unit that matches your interior design.
There are also Wet rated models designed for an outdoor kitchen or bar.
Commercial-Grade Kegerators
These are typically the most expensive of the bunch and are usually found at bars and restaurants. These models typically have a large capacity with some holding up to 5 kegs.
Commercial grade keg refrigerators are made from extremely durable materials and have the option of single or multiple draft towers.
These models are built to withstand constant use and come with plenty of features that you might not find in your regular home-use kegerator such as draft tower cooling fans, door alarms, and steel floor plates among others.
What to Look For in a Kegerator
Much as you are spoiled for choice in the kegerator market, not all units are made equal.
Make the wrong choice and you begin to run into problems such as your beer doesn't taste right, it isn't cold enough, or pours in a foamy mess and so on.
Certain factors make some kegerators better than others. We used these same criteria when coming up with our best kegerator review section below.
Here is what to consider when buying a keg refrigerator:
Size
The size of your unit is perhaps the best place to start when choosing a keg refrigerator. At the very least, the kegerator needs to be big enough to hold your keg so consider the barrel size before choosing.
You will also need enough floor space to install the refrigerator. The basement may sound like a good spot but consider how far you have to carry your barrel when choosing the ideal spot for your kegerator.
Ventilation Requirements
Ventilation requirements typically go hand in hand with where you are going to place your unit.
Take for example the free-standing kegerator which is the most popular choice with consumers. You need at least a few inches of space between the back of the unit and the wall. Fitting the keg refrigerator flush to the wall limits ventilation, causing the unit to work harder than necessary to maintain the internal temperature. This exertion, in turn, reduces the lifespan of your unit.
Built-in kegerators don't have this problem and can be installed flush against the wall or kitchen cabinet since the ventilation is located at the front of the unit.
Functionality
As previously mentioned, a kegerator isn't just for keeping your beer cold. Otherwise, you could just take everything out of your regular fridge and store your keg there.
Some of the essential components of a good kegerator include:
Coupler
CO2 tank
Regulator
Beer tower
Air and beer hoses
Spanner wrench for assembly
A good unit will allow you to consistently maintain the ideal internal temperature (roughly 38° F) and ensure the correct pressure especially for non-pressurised beer.
Features and Accessories
Most people don't need all the bells and whistles that are available on premium models. Think about the features that you need and work from there. More features typically translate to more money out of your pocket.
Some features to consider include:
Digital temperature display that allows you to adjust the temperature easily for the style of beer
Multiple taps if you want to serve more than one style of beer
Dual pressure regulator if you need to keep two kegs at different pressure levels (common when brewing or buying two different styles of beer)
Power converter or battery pack is ideal for mini kegerators
Kegerator cleaning kit to keep your beer lines clean
Handles and caster wheels make it easier to move freestanding kegerators without much effort
Ease of Assembly
You will almost certainly have to assemble the kegerator out of the box so consider your DIY skills before ordering your unit.
The good news is kegerators typically come with step-by-step instructions. YouTube videos are also a great resource for assembling your unit.
Review of the 4 Best Kegerators for Homebrewing
So which is the best kegerator on the market? That's a difficult question to answer and largely depends on your budget and your beer cooling and serving requirements.
We have put together a review of some of the best kegerators on the market. These are great options and you can hardly go wrong with any of these choices.
Kegco K309SS-2 Digital Beer Kegerator
The Kegco K309SS is a great option for brewing enthusiasts looking for a full-size kegerator. It has a beautiful matte-black finish with a stainless steel door to complete its modern aesthetic.
This kegerator sports a large interior where you can store a ½ barrel along with a ¼ barrel or two slim ½ barrels. The dual taps mean that you can enjoy cold beer and have some chilled cider for the Mrs. This feature is also convenient if you would like to serve two different styles of chilled beer.
The temperature range on this unit is 32-75 °F which is better that you will get with most home-use keg refrigerators. The roller wheels are a nice touch that allow you to move this 97-pound unit without too much trouble.
Nostalgia KRS2100 Full-Size Kegerator
The Nostalgia KRS2100 has a rather basic aesthetic but don't let that fool you – this full-size kegerator comes with great features and functionality.
This kegerator is easy to assemble and you should be able to put it together in about 30 minutes. The model has a decent temperature range of 34-52 °F and a control knob to adjust the temperature.
The unit has a quiet operation and can keep your beer fresh for up to three months depending on the type of beer. You also get caster wheels for easy transport and a handy shelf for when you want to store drinks other than a beer keg. This is a large kegerator with enough space to hold 1/6, ¼ slim, and ¼ short.
EdgeStar KC1000SS Craft Brew Kegerator for 1/6 Barrel
You don't need to spend a lot of money if all you need is a kegerator to chill and dispense your beer. EdgeStar KC1000SS Craft Brew Kegerator is the perfect model for entry-level brewers or people on a tight budget.
You get everything you would need in a kegerator including a CO2 tank, single gauge regulator, tower and faucet assembly, and 2 beer lines. The temperature goes as low as 32°F which is perfect for lagers.
You can easily fit a 1/6 keg or Cornelius which is sufficient for most entry-level homebrews. This is a solid choice for someone on a budget who just wants a functional kegerator with bare minimum features.
SPT BD-0538 Mini Kegerator & Dispenser
Sale
Lastly, you don't need a large unit taking up a lot of space to enjoy a cold brew.
The SPT BD-0538 Mini Kegerator & Dispenser is good for 5L mini-kegs and fits comfortably on a kitchen counter or standard table.
This little tabletop kegerator chills your beer in about 19-21 hours and has some neat features including CO2 cartridge, push-button functionality, stainless steel housing, and thermoelectric cooling system.
This is a plug-and-play kegerator that doesn't require too much fiddling with the equipment except for installing the CO2 cartridge and the keg.
Summary
There is something for everyone in the kegerator for homebrewing market and there is no reason that you can't enjoy a perfectly chilled brew on demand.
A serious brewer may want the commercial-style Kegco K309SS-2 Digital Beer Kegerator while a frequent traveler will enjoy the portability of the SPT BD-0538 Mini Kegerator & Dispenser. Even budget conscious shoppers looking for a mid-size kegerator are not left behind with the value-for-money EdgeStar KC1000SS Craft Brew Kegerator for 1/6 Barrel.
Just make sure you compare your keg size to specifications of the kegerator you are considering to make sure that it fits. Be sure to follow the instructions in the product manual carefully during assembly, operation, and maintenance to get the most life from your unit.
Now you can enjoy a chilled brew at any time regardless of your budget, brewing proficiency, or space constraints!