If you're looking to get your homebrewing setup out of the kitchen, the first thing you'll need is a propane burner. These handy BTU throwers produce plenty of heat; enough to bring 5-10 gallons of wort to a boil in no time.
How Propane Burners work
Propane burners work by transferring a regulated amount of propane to a burner head. During this process the propane is lowered to atmospheric pressure, where it can mix with air and ignite. This mixing occurs at the round widget where your propane tank hooks up to the burner. The round plate can be rotated to increase or decrease the amount of air being mixed with the propane, but leaving the setting at the 50/50 mark is a safe bet if you don't want to mess with it.
The most incredible thing about this entire process is that propane burners work without using any electricity. Instead, they use the Venturi Effect to lower the inline pressure of the propane below atmospheric pressure, causing air to be sucked in through these inlets.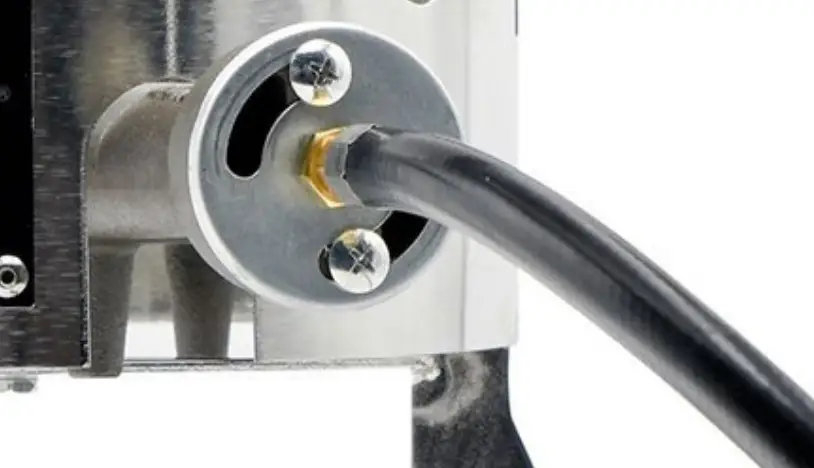 Setting Up & Using Your Propane Burner
At first glance, using your propane burner for the first time can seem intimidating. A canister of explosive gas and a powerful open flame that resembles the sound of a jet engine can seem like a recipe for disaster. However, setting up and using your propane burner is actually incredibly easy.
Place your burner and propane tank where you want them to be during the brewing process.
Attach the propane burner's hose to the tank and turn the hose's regulator all the way to the closed position. At this time, add your kettle with wort or mashing water to the top of your burner.
Open the valve on the propane tank all the way to the open position.
Next, with a lit long lighter by the burner head, slowly open the regulator on the hose until the burner lights. Now you can continue to open the hose regulator until you have max power.
TIP: You can close the regulator on the hose most of the way once the wort begins to boil. You need much less propane to maintain a boil than to bring the wort to a boil. This also helps reduce the risk of boil overs.
Benefits of Brewing with Propane Burners
There are a few key benefits to upgrading to a propane burner setup compared to brewing on a stovetop.
Size
The first benefit is batch size. While some kitchen stoves can bring 4-5 gallons of wort to a boil, it usually takes a while, and the boils aren't particularly vigorous. Having a propane burner speeds up the brewing process and unlocks the ability to do full volume boils (batches with volumes that account for boil off prior to beginning the boil).
Time
The second benefit is your time. It takes just as much, time, effort, and cleaning to brew 3 gallons of beer compared to 5 or 10 gallons of beer. Having a good propane burner for homebrewing allows you to maximize the beer you get for your time. Here are some of the best propane burners on the market.
Best Propane Burners for Homebrew Kettles
Edelmetall Bru Burner
The Edelmetall Bru Burner is a propane burner built for homebrewers, by homebrewers. You can take your brew day to the next level with this bad boy.
One thing you'll notice about this burner is it just looks awesome and it's constructed from high quality metals. Stainless steel and copper – what could be better? This rig can easily handle heavy brewing. Cast iron kettle? No problem.
The 3 stays are adjustable to fit a brew kettle up to 19″ in diameter, and if you're using anything bigger you can flip the stays over, you'll just need to make sure you securely center the kettle.
The Bru Burner outputs 72,000 BTU's of heat over dozens of jets, which means the heat is more evenly distributed and you're less likely to have anything burn. It also has a tall windscreen which will help keep things going even on windy days.
Dark Star® Burner 2.0
If you're just now thinking about brewing outdoors and are looking for an affordable, yet efficient option, the Dark Star 2.0 propane burner is probably going to be your ticket. The 2.0 model is an improvement on the company's original Dark Star burner.
The previous model had an output of 54,000 BTUs, but the 2.0 has an improved 65,000 BTU rating which gives you the power to boil up to 15 gallons in good conditions. The Dark Star 2.0 has a wind guard to help preserve efficiency, however, if you plan to push your system to larger 12-15 gallon boils, you may want to consider more powerful options.
Blichmann Hellfire Burner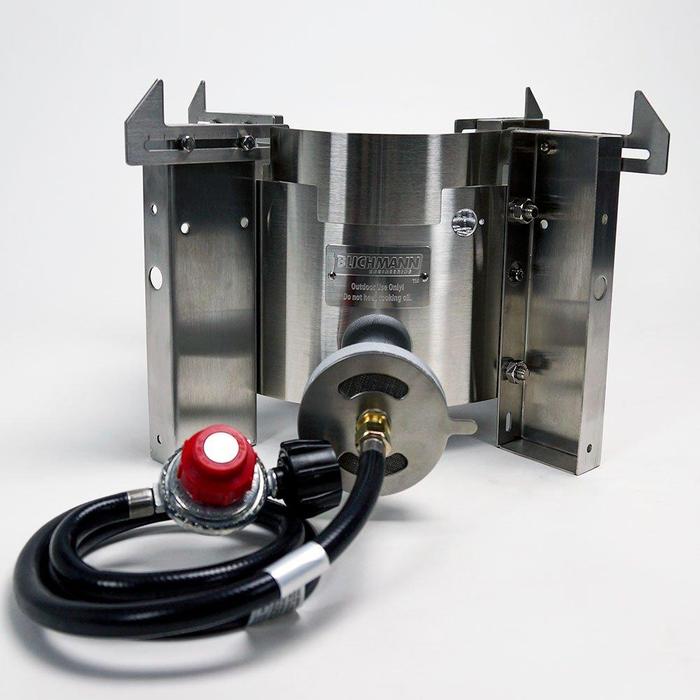 Blichmann produces the Hellfire Burner, and it was the first propane burner designed specifically for homebrewing. As such, it has gained incredible respect in the brewing community and the Blichmann name represents some of the best brewing equipment on the market.
The Hellfire Burner has two different settings. One for regular use and another for high-powered heating. The regular mode has an 80,000 BTU rating while the high-power mode sits at 140,000 BTUs. This burner can easily handle 20-gallon batches.
Blichmann has a few modifications you may consider as well. If you opt for the floor burner model, you can add leg extensions to increase the height of your burner. The Hellfire Burner is also available in a stand mountable version.
Concord Deluxe Banjo Propane Burner
If you're looking for heavy duty and heat output, this is your stop. The Concord Deluxe burner puts out 200,000 BTU's of heat – enough for even the largest of home brews. Brewing beer happens in a jiff when you can get to boiling wort so quickly.
This burner is made from cast iron and measures 22 x 15 x 18 inches. It weighs 32 pounds and the burner head is 10″ wide. If you're doing really heavy brews (it supports up to 400 lbs), this is the burner I would recommend because you know it's going to withstand whatever you throw at it and you won't outgrow the heat output.
Bayou Classic SP10 Cooker
Bayou Classic makes quality, affordable burners so they're always a name to consider when you're looking for the best propane burner for homebrewing. This easily stored and portable burner has a steel frame and 360 degree wind screen for great flame protection.
It outputs 59,000 BTUs and has a 14″ diameter cooking surface.
GasOne Heavy Duty Single Burner
GasOne is more of a budget brand, but their burners can still get the job done for beginner homebrewers. This burner puts out 200,000 BTUs of heat and it's relatively portable with 15 x 15 x 12 inches and 28 pounds.
GasOne Portable 100,000 BTU High Pressure Burner
If portability is more important to you and you'd like something that sits higher off the ground, then this GasOne burner is a very affordable option. It outputs 100,000 BTUs and has height adjustable legs. It can be either 15″ or 30″ tall.
It weighs only 15 lbs and the legs easily detach, so you can move this burner around or store it very easily compared to most other gas burners.
One downside is the burner head isn't very wide compared to more premium burners, so you may not get as even heat distribution to your kettle.
Bayou Classic KAB4 High Pressure Banjo Cooker
The Bayou Classic KAB4 High Pressure Banjo Cooker is another terrific propane burner option for homebrewers. It has a sturdy frame and a larger windshield than the Dark Star 2.0. The manufacturer lists the boiling capacity at 100 quarts, or 25 gallons. The hose length is four feet, which is slightly above average for economically-priced burners.
Bayou Classic SS10 Stainless Steel High Pressure Cooker
The Bayou Classic SS10 is a stainless steel propane burner built for turkey frying and homebrewing. While it earns style points for the shiny appearance, it isn't anymore powerful than other stock Bayou Burner options. For homebrewers, this system tops out in the range of 5-10 gallons as far as batch size is concerned. However, if you're building a brew stand and want that stainless look throughout your setup, the Bayou Classic SS10 should be one of your top considerations.
Finding the Right Gas Burner for You
The type of propane burner you need for homebrewing will rely heavily on how big you need your batches to be, your personal style preference, and if you plan on increasing your batch size in the future. If you see yourself brewing larger batches in the future, you'll definitely want to opt for one of the more powerful burners on this list.
Homebrewing BTU Calculator – How Many BTU's Do I Need?
BTU's are a measurement of heat that we can apply to heating water (or wort). 1 BTU will raise 1 pound of water by 1 degree Fahrenheit. There are 8.35 lbs in 1 gallon of liquid.
By doing some math, if you're brewing 5 gallons then you're dealing with ~42 lbs of water. Moving that water from ~60 degrees to 212 degrees (boiling) will take 6348 BTUs.
Propane tanks are rated in BTU output per hour. So lets say we have a propane burner with a rated output of 60,000 BTUs per hour. 60,000 per hour / 60 minutes = 1,000 BTU's per minute.
So in perfect conditions, a 60,000 BTU burner could take 5 gallons of 60 degree water to boiling in ~6.3 minutes. However, in reality a lot of heat from the burner gets wasted due to ambient air temperature, wind, heat loss from your kettle, etc. It's a good idea to tack on an extra 30% to the time you end up with, so 6.3 minutes becomes ~8.2 minutes as a realistic estimate.
By looking at these calculations you can see that the biggest impacts on your brew times will be the gallons your brewing and your burner's BTU output. A higher BTU output can help you brew faster, but even a lower BTU gas burner will get the job done (eventually).
Propane Burner Safety Tips
When you're brewing beer, you're going to be burning a lot of propane. When propane burns, it releases carbon dioxide which is very harmful to breath in! Carbon monoxide poisoning can be deadly in minutes. For that reason, it's always advised to brew outdoors when brewing with gas.
Some people may prefer to brew in their garage, but in that case you're still going to need proper ventilation set up to the outdoors, so you're not going to save much in terms of keeping the cold out. Brewing in your garage with the doors up and a fan running should be safe for those rainy days, though.
Another thing to be on the lookout for is potential propane leaks. Propane gas has a sweet smell to it, almost like onions. If you detect this smell, you should check and see if your flame went out and shut off the tank immediately.
Ventilate the area and see if you can find the source of the leak. Start with the tank, then check the hose, and your burner. See if there's any step along the way leaking gas. You might be able to hear the gas hissing out somewhere or feel it.
One other trick is you can also spray some soapy water on the hose and connection points. Any air/gas escaping will blow bubbles and become very easy to spot.
It's also possible you just didn't have everything connected securely and tightly.
Burner Types – Jet vs Banjo
When it comes to homebrew burners, you'll see the term "banjo" used a lot. This refers to the shape of the burner itself and the way it puts out heat. A banjo burner kind of looks like the body of a banjo as seen below.
You can see that the heat is pretty evenly dispersed across many small jets of flame. Most homebrewers prefer banjo burners for this reason. They believe it helps keep things evenly heated and gives a better result.
Some people may prefer a jet burner, which is typically a single jet or a few jets that fire more into the center of the kettle.
You can experiment with different types of burners as you see fit, but most homebrewers believe the banjo burner is the best choice.